Snooki naked photos leaked while pregnant [PHOTOS] Was it a ploy for publicity?
Tweet
Follow Guyfy on Twitter and Facebook
So we're not sure how these cell phone photos got leaked of Snooki snapping photos of herself wearing a white robe while open.
We haven't seen any uncensored photos so we're not sure how anonymous this leak really was on June 8, 2012. Was it done on purpose to create a buzz, not sure. But, it has been confirmed by
Snooki's rep that they are legitimate
. It's definitely her.
The leaked Snooki photos unveiled
In the first picture she's holding a cell phone up taking a photo of herself unveiling part of her right breast as she clutches it. Ouch! Easy there Snooki! The critters were added by us.
Tweet
In this photo, she snaps a photo of herself wearing a white robe opened up showing her groin area and chest. It appears to be in a hotel room and taken in front of a mirror.
Tweet
In the next photo she's actually full on topless and grabbing her right breast again. It appears to be her left breast but it's in front of the mirror again.
Tweet
In this last photo it's her showing off her whole body and pulling down her panties, but you can't see her face here because of the flash.
The photos were originally posted by
egotastic
About the photos, Snooki's rep told E-online:
"Clearly these are old and personal photos that were not meant for the ?public...it's a shame someone decided to leak them for obvious personal gain."
Naked Snooki photos leaked in the past
This isn't the first time she has had leaked naked photos. It also happened in 2010 where she was on her hands and knees in a doggy pose what appeared to be her own room.
This section of our story is exclusive to our Facebook fans.
Like to instantly view:



or like our Facebook page:

Even though she was naked, Snooki did not reveal private parts in this photo which makes us question the validity of these leaks. Are they anonymous or strategic?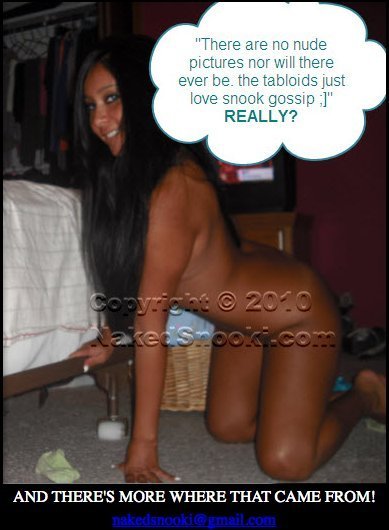 Look-alike Snooki nude photo leak
There was also another naked photo of a "Snooki" showing her vagina, but this one was planted by a look alike:
Is it a ploy for publicity? Tweet
Well we don't know for sure if these photos were leaked by Snooki herself for publicity and popularity gain. If so, it definitely does work. Any girl who takes naked photos of herself and puts it on the internet will get seen.
The reason why we think the photos were leaked on purpose is because there don't seem to be any
uncensored
photos available. Usually when these leaks are real and truly anonymous the uncensored photos crop up to news sources. Even in her first
"nude photo"
leak in 2010 her private parts weren't actually revealed clearly even though she was naked on hand and knees. Are these naked photo leaks anonymous or strategic? This is why it all seems be a ploy for publicity. Either way, it's news now so there it is.
Source:
eonline
,
huffingtonpost
Question of the day
Was this all a ploy for publicity? Tell me in the comments below!
---
MORE STORIES